Full & Partial Dentures in Columbia, SC
You don't have to settle for gaps in your smile. At Bethea Family Dentistry, we proudly offer modern full and partial dentures near you to get you back to enjoying the benefits of a complete, fully functioning smile. Ready to eat, talk, and smile with ease? Please contact our office to schedule your consultation!
Contact Us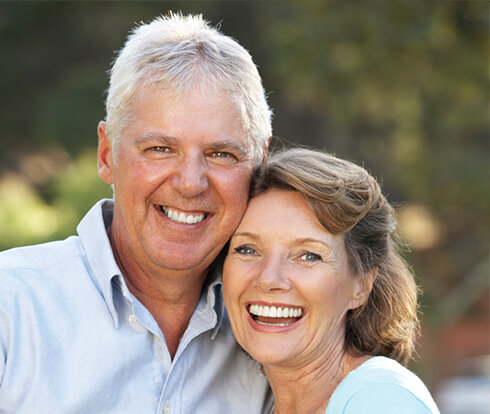 Types of Dentures
Full Denture
If you are missing all of your teeth on your upper or lower arch, we can create a custom-fitted, comfortable denture to replace your teeth. They have a realistic-looking, gum-colored base with replacement teeth that look and feel natural!
Partial Denture
They aren't just for total tooth replacement, we can also fill in the gaps with a partial denture if you aren't missing all of your teeth. Partial dentures have a clasp that attaches to existing teeth for additional support.
Denture FAQs
What is the dentures process like?
We take impressions of your gum line and any existing teeth. Then, we'll use our smile preview software to digitally create your new smile—you can even choose what shade you want your new teeth to be. Once we have an idea and 3D model of your future smile, we'll send the impressions and our imaging to an off-site lab. There, they'll create your custom-fitted dentures and send them back to our office when they're complete. When we receive them, we will call you in for an appointment and show you how to adhere them into place. We'll also make sure that they're a good fit and that you don't have any issues.
When do I need full dentures over partial dentures?
Full dentures are for patients that are missing a complete set of teeth on their upper or lower arch. Partial dentures are used for patients that are missing some, but not all of their teeth.
How should I care for my dentures after I get them?
Since they are worn on a daily basis, they can become riddled with bacteria. It's important to soak them in a dentist-approved denture solution every night and to be mindful to not place them on dirty surfaces. Even though they can't cause decay in teeth, since they are missing, they can still cause gum disease and other oral health issues.
ACHIEVE A COMPLETE SMILE