Start-to-Finish Dental Implants in Columbia, SC
At Bethea Family Dentistry, we craft realistic, functional replacement teeth to attach to dental implants. Dr. Bethea has received extensive training to complete the entire process in-house, so we won't have to refer you out to other dentists. Replacement teeth shouldn't have to look fake and feel uncomfortable, our goal is to give patients smiles that look just as great as they feel! Contact us to learn more about the implant process!
Contact Us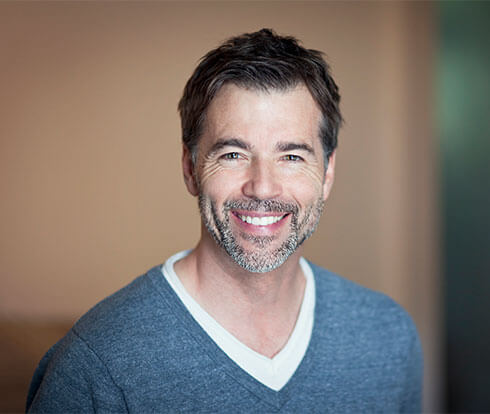 What Are Dental Implants?
Implants mimic natural tooth roots. They are small, titanium screws that go into the jawbone and fuse with it over time. The purpose of implants is to create a stable, reliable foundation for tooth restorations to attach to on the gum-line. Once the restoration is in place, the implant will be completely covered and won't be visible. Implants are a popular, permanent method for tooth replacement that helps patients regain healthy, beautiful, fully functioning smiles.
Guided Implant Placement
The first step of the implant process is placing the implants into the jawbone. We use advanced digital design software to perform precise, guided implant surgery. Dr. Bethea will map out the exact placement and position of each implant for the best results. Once the implants are in the jawbone, we wait for them to completely fuse with the bone before moving on to the restoration phase. While you may be wary about having a metal post showing at the gum line, don't worry! Once we attach your replacement teeth to the implant, it will be completely invisible so no one will be able to tell that you have them!
Our Modern Dental Implant Restorations
Dental crowns are used for single-tooth replacement. They are made from porcelain or ceramic and crafted to look just like a natural tooth. Crowns are connected to dental implants using abutments.
Bridges are used to replace multiple missing teeth in a row. Bridges have multiple replacement teeth fixed together in a single prosthesis. The crowns on each end of a bridge will attach to two dental implants on either side of the gap.
We can create both full and partial dentures to replace a portion or an entire arch of teeth. Our dentures have gum-colored acrylic bases with porcelain replacement teeth. Dentures require four to eight implants to snap into place for optimal placement and comfort.
Schedule Your Appointment
Dental Implants faq
How do dental implants work?
Dental implants are designed to work like your natural teeth. They have a part called the implant post that mimics a tooth root, and they have a part called the restoration that resembles the visible top of a tooth. Unlike other tooth-replacement methods, this implant post is what keeps them secured in place.
Are dental implants painful?
While getting a dental implant involves surgery, that doesn't mean it's painful. In fact, during your procedure, the most you might feel is some pressure—not pain. We apply local anesthetic and offer sedation dentistry to keep you feeling comfortable every step of the way.
Are dental implants permanent?
Dental implants may not have an infinite life span, but they are built to last a very long time. For some people, that can mean 25 years! The best way to prolong their life is to practice daily oral hygiene and visit your dentist twice a year.
Are dental implants covered by insurance?
Whether your dental implants are covered by insurance depends on your specific provider and plan. Some may not cover it if it's considered a cosmetic procedure while others may cover a portion. We recommend getting in touch with your dental insurance company to get details. Our team is also happy to go over your financial options with you.
Contact Us