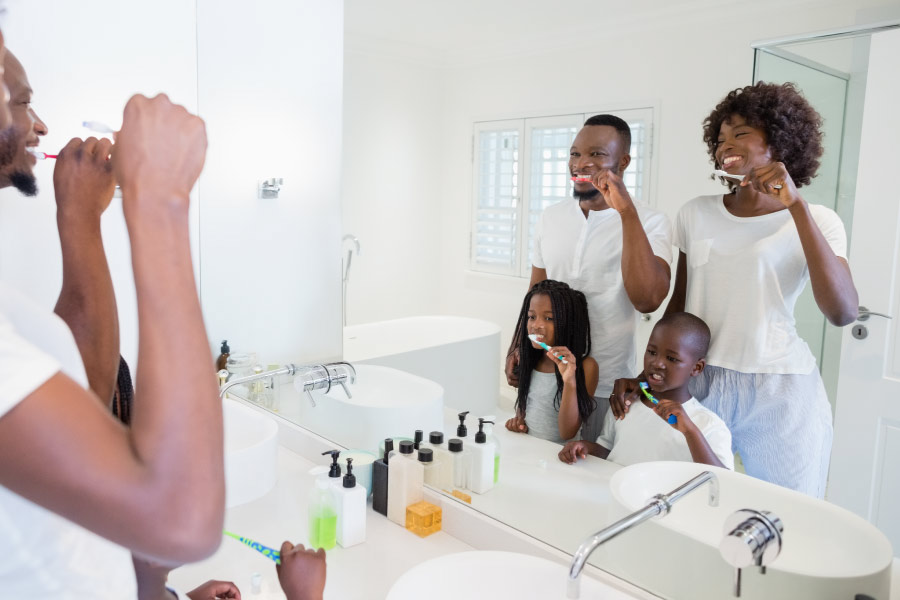 Since we all learned to brush our teeth when we were little, chances are you don't think too much about how you're doing it now. Because there are some right ways and some wrong ways to brush, it's good to reassess your technique in case you need to make improvements. Daily brushing is one of the best ways you can protect your smile from cavities and gum disease, so taking the time to do it right will definitely pay off! Here are some tips to make sure your toothbrushing is top-notch.
The Two by Two Rule
There's a rule of twos when it comes to proper tooth brushing. You should brush your teeth at least two times a day, one time in the morning and one time at night. Each time you brush, you should be brushing for at least two minutes long. Time yourself next time and you may be surprised at what two minutes of brushing actually feels like! Many people enjoy the convenience of an electric toothbrush with a timer.
The Right Stuff
If you want to create a healthy tooth brushing routine, you need to start off with a good foundation—that means the right tools. Choose a soft-bristled toothbrush so you don't damage your enamel and gums with bristles that are too hard. When choosing floss, make sure you pick the right kind of thread that suits the spacing between your teeth. If you are unsure about what type to use, ask your dental hygienist for recommendations at your next visit to Bethea Family Dentistry.
Out with the Old, in with the New
With everything else going on in life, you might not think much about when you started using your current toothbrush, but it's something you should know. Why? Because it's a good idea to replace your toothbrush every three months since that's when it'll start getting frayed and become less effective at removing bacteria.
Professional Hygiene Cleanings at Bethea Family Dentistry
Regular preventive care in addition to daily oral hygiene will keep your smile healthy and save money in the long run. During your next professional teeth cleaning, we can give you tips to enhance your brushing and flossing skills. Bethea Family Dentistry in Columbia, SC offers other services like dental sealants and fluoride treatments to protect your family's oral health. Contact us to schedule your appointment or learn more about our treatments.