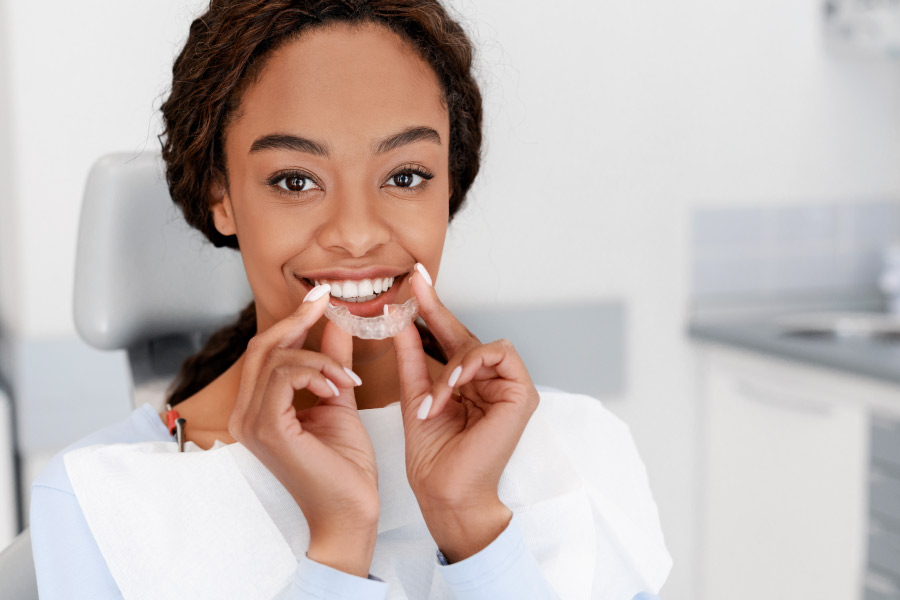 Are you looking to take your smile to the next level? Orthodontic treatment can straighten crooked teeth, close gaps, adjust bites, and correct overcrowding. There are many orthodontic treatments available, including Invisalign® Clear Aligners. Invisalign is a popular solution among patients, here's why!
What Is Invisalign?
Invisalign is a revolutionary clear orthodontic treatment. It utilizes transparent, plastic aligners to straighten teeth over time. Invisalign is set up so that you wear each set of aligners for one to two weeks. Each set of aligners will gently inch your teeth closer to their final positions. You will progress through each set until you reach the end of your treatment. Aligners must be worn up to 22 hours a day, but they can be removed to eat and clean your teeth!
What Can Invisalign Treat?
Invisalign is a great, effective orthodontic treatment that can combat a range of orthodontic issues, such as:
Crowding
Crooked Teeth
Gaps
Underbites & Overbites
& More!
Invisalign Aligners vs. Traditional Braces
While both orthodontic treatment options are great teeth straightening solutions, Invisalign offers an array of benefits that make it stand out above the rest! Invisalign aligners are:
Almost invisible – most people won't even notice you're wearing them
Comfortable & won't scratch or irritate the inside of your mouth
Easy to clean – you won't have to brush & floss around brackets & wires
Removable for eating, drinking, & keeping teeth clean
Schedule Your Invisalign Consultation Today!
Are you ready to get started on your orthodontic journey? We are ready and equipped to help you achieve your goals. At Bethea Family Dentistry in Columbia, SC, we offer Invisalign Clear Aligner therapy to give patients a straight, confident smile that will set you apart from the rest. Please contact our office to book your Invisalign consultation.