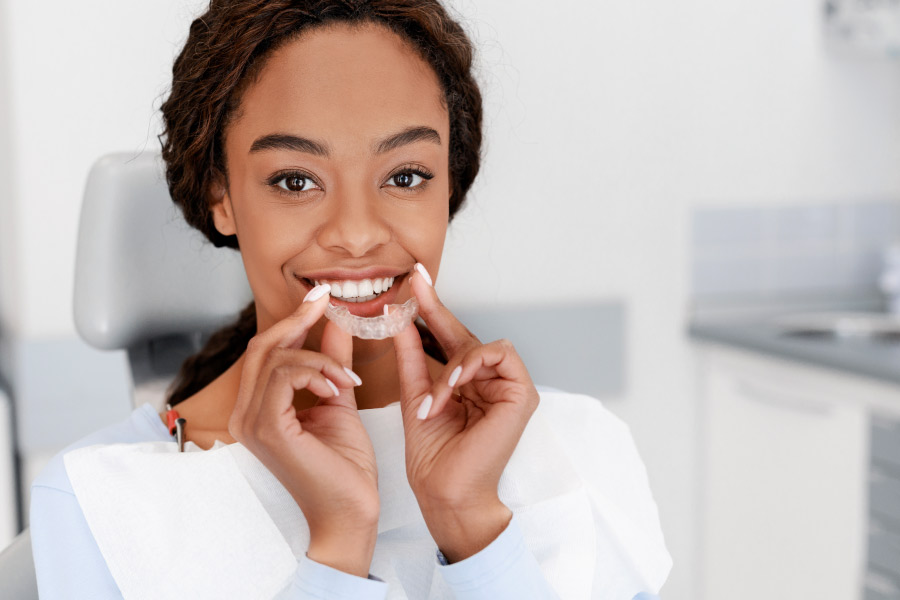 If you're ready to get a straighter smile, you may be wrestling with two options: Invisalign or metal braces. Both have the power to move teeth into their perfect positions, but each goes about it in different ways. That also means that the treatment experience isn't quite the same when comparing the two. These days, many people are choosing Invisalign® over metal braces. Here are some of the reasons why Bethea Family Dentistry's patients love Invisalign. We hope it might help you in your own decision-making process.
A Clear Choice
One of the biggest advantages Invisalign has is that it's a barely visible treatment. Invisalign's aligners are made from clear plastic and custom-fitted to the patient, which makes them difficult to notice. Many people want to straighten their teeth but feel embarrassed at wearing highly visible braces. Invisalign gives them the chance to continue being confident about their smile throughout treatment.
Removability
Not only are Invisalign trays clear, they're also completely removable. That means that you can pop them in and out to continue eating all your favorite foods, and to brush and floss like you always have. This is opposed to metal braces which involve fixing brackets to your teeth and then stringing wires between them. Since they can't be removed, there are lifestyle changes required when it comes to food and oral care.
Comfort Factor
Many people feel like Invisalign aligners are much more comfortable to wear than traditional braces. They find the smooth plastic to be gentler on their teeth and gums. That in turn means they can continue on their treatment plan with less worry of potential discomfort caused by the poking or rubbing from brackets and wires. Because each set of new aligners move your teeth gradually, you also avoid the discomfort that comes when metal braces get tightened.
Straighten Your Smile in Columbia, SC
Convinced that Invisalign is the right choice for you? We'd love to be your guide through your clear aligner therapy journey! We offer Invisalign clear aligners at our Columbia dental practice, so we invite you to visit us for a one-on-one consultation. Our team is also happy to answer any other questions you might have about Invisalign versus metal braces.